Networked Signage
The VizFrame Digital Signage Appliance can be operated peer to peer, or on a LAN, or on a public Internet address. Both DHCP and fixed IP address configurations are supported. Each ViziFrame comes standard with an auto switching 10/100 Ethernet port for use with CAT5 wiring. Optional Gigabit LAN port is available as is wireless 802.11 B/G WiFi support via an add-in card.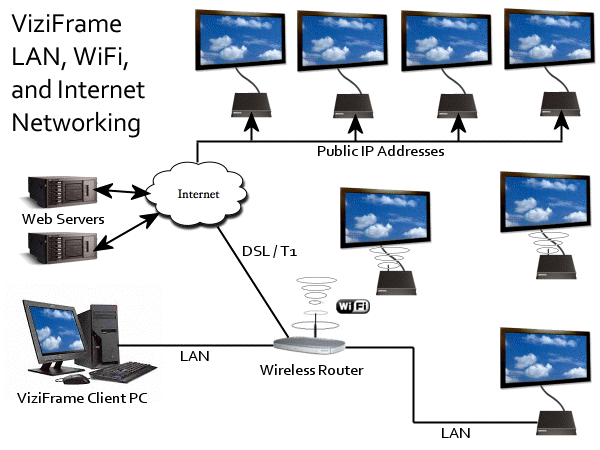 There is no special requirements for network configuration. If the ViziFrame Client PC can see other ViziFrames on the LAN, Wireless Network, and Public IP addresses on the Internet, it can transmit play-lists and content to the ViziFrame. Conversely if the ViziFrame Appliance can see the Internet, it can pull live content from any web server to be displayed.
ViziFrame uses standard HTTP and FTP ports for communication, ensuring compatibility and throughput with virtually any network security or firewall system.
You can deploy ViziFrames worldwide and run them all from one PC using the ViziFrame Client software.
ViziFrame supports all standard TCP/IP network architectures. It does not use any proprietary ports or protocols, making it simple to manage on your network or to access through firewalls.


Ports used by ViziFrame:
Port 80 for HTTP fetching of web based content
Ports 20,21 for remote management via FTP
The ViziFrame Digital Signage Network can be used for:



Retail Signage and Displays


Plasma Signs


LCD Signs


Projector Signs


Point of Purchase (POP) Signage for product advertisement


Window Displays to help drawn in Mall and outside consumers.


Merchandizing Signs


Advertising Signs


Store Signage


Office Building Informational Signage


Menu Boards for Fast Food Restaurants and Concession Stands


Informational Signs


Point of Sale (POS) Signs


Mall Displays


In-Store Dynamic Signage


Narrow-casting


Out-Of-Home Advertising


Visual Merchandising