About ViziFrame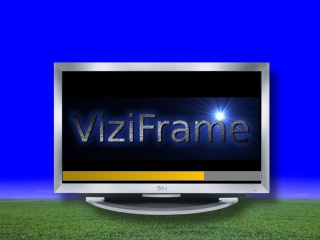 The ViziFrame Appliance and Client Software is the result of over a year of development and testing by our company, ItWorks. ItWorks has long been a provider of broadcast TV display systems for use in the most demanding environment ever - live television news and weather - where mistakes or problems aren't tolerated on-air. Much of the design philosophy we put into our broadcast display systems and weather presentation content have gone into the ViziFrame design.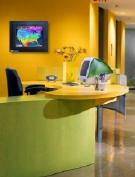 ViziFrame is a second generation product, being preceded by WeatherFrame which is a wall mounted self contained weather briefing solution. WeatherFrame will be upgraded with the new technology we have developed for ViziFrame.
ViziFrame is designed to be a simple, robust, and trouble free networkable appliance that will turn any video display into a digital signage system. Its design emphasis is on simplicity, standards conformity, and rock solid operation. While there are certainly other digital signage systems out there that have more features, we believe that ViziFrame's simple and straightforward approach will cater to many whom don't have the time or patience for the challenge of learning a complex networked digital signage system.
With ViziFrame, you don't have a steep learning curve. Most anyone with a casual familiarity of networking, web browser operation, and some knowledge of digital photography and graphics file formats can make this system work with just a little time.

The ViziFrame Appliance is powered by Slackware Linux, one of the most respected and robust Linux distributions available. In choosing this operating system, we valued reliability and stability over "bells and whistles" because we know the last thing you want to do is take apart and troubleshoot a digital sign after its been mounted on the wall or hung from the ceiling. In our testing prior to this release, we had several ViziFrames running 24/7 for over two months with not a single failure or missed image.
Our research has shown that 90% of the digital signage applications out there run a simple series of rotating graphics composed of text and pictures. ViziFrame excels at that, but it can also do something very unique - it can pull real-time content from web servers - allowing it to become a real-time weather and news display in addition to advertising products. One of the applications we see for ViziFrame is to create personalized weather channels for truck stops, off-highway restaurants and rest areas. To make that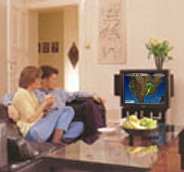 possible, we supply a vast variety of real-time weather content via our IntelliWeather service.
In fact, we've sold some of our WeatherFrame systems to homeowners that want to keep tabs on local weather. ViziFrame will do the same, and can feed a closed circuit TV channel or RF modulator to distribute the channel through a home business or hotel.
We hope you'll take a moment to check out our product, or even try one out for 15 days and let us know how it works for you. We offer email and telephone technical support, and we actually answer the phone, unlike some companies that rely on voice mail. Give us a call, let us know your needs and let us help.
Thanks for reading!
Anthony Watts
President
ItWorks
3008 Cohasset Road
Chico, CA 95973
530-899-8434
ViziFrame Design Tenets:
Simplicity
Ultra reliable operation
Broad video connectivity
Scalability
Flexible casing
Low Cost
Some basic facts:
ViziFrame can run unattended for months, even years
Even though its based on Linux, you don't need any knowledge of Linux to operate it
There is a built in setup wizard in each appliance, run it once and forget about it
ViziFrames use a flash based solid state disk to run the operating system - no disk crashes to worry about
You can deploy ViziFrames worldwide and run them all from one PC
Using any web server, you can host content for ViziFrame and then by changing a single graphic file, update every ViziFrame on your network simultaneously.
You can run animation flipbook sets (loops) on ViziFrame, which is useful for looping satellite or radar pictures, but can also run fast image sequences
Images can be stored in ViziFrame Appliances or pulled from a web server
If the power fails, ViziFrame will bootup, reestablish its network connection, and play its show automatically