Purchase ViziFrame
The ViziFrame Slim Digital Signage Appliance is sold ready-to-run with your name, company name, or organization name on the startup screen. It's ready to connect to just about any computer video monitor or flat screen TV with an SVGA port. All ViziFrame Appliances come with a SVGA DB15 Male to Male cable for use behind wall mounted monitors, plus a short 10/100 CAT5 Network cable. Wireless 802.11B/G connectivity is standard.
A USB Keyboard is required for initial setup of the ViziFrame Digital Signage Appliance. After that it will run unattended and without need of a keyboard or mouse. If you need a USB adapter for PS2 style keyboards, see our optional adapter below. A sample slide show comes installed with the appliance, and you can easily create your own slide show with advertising, menus, live web images, and video using the Windows based client program from any PC on your network. Setup time is usually 10 minutes or less.
---
Monitor, Wall, or Desktop mount ViziFrame Appliance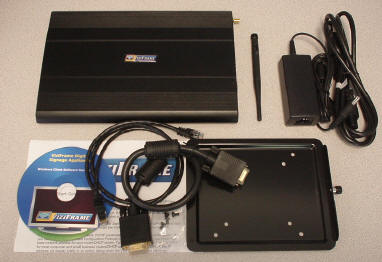 ---
Rack Mount ViziFrame Appliance with NTSC/S-Video for cable TV channels, internal video networks, and multiple TV's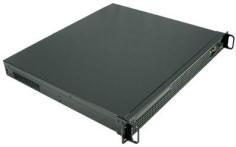 ---
USB to PS2 style Keyboard/Mouse adapter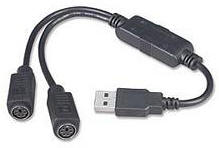 For the ViziFrame Slim Digital Signage Appliance if you do not have a USB keyboard for initial setup.

---
Dual Monitor Adapter Kit
One ViziFrame Slim unit can run two flat screen displays simultaneously. Useful for pole/column mounted systems with front/rear monitors facing opposite directions. Contains one SVGA splitter, plus two 36" SVGA cables (longer cables available on request). Monitors and mounting hardware shown below are not included, shown only for example.
| | |
| --- | --- |
| | |
| SVGA Video Splitter Cable Kit | Dual monitor mount example |
For the ViziFrame Slim Digital Signage Appliance to drive two monitors simultaneously

---

IntelliWeather Digital Signage Live Weather Subscription service: per city location which includes
national and regional satellite and radar, local radar, forecasts for Today, Tonight, Tomorrow, plus extended forecasts out to 7 days ahead, and local current weather. Customized with your company logo or brand name.


There is a one time $99 setup fee for each local weather content package to customize it for your location
---
WE ACCEPT PURCHASE ORDERS TOO!
We accept purchase orders from qualified organizations such as schools, government agencies, and corporations.
To get setup for a purchase order, please contact us at 530-899-8434 or fax purchase order plus credit references and contact info to 530-899-3333
Terms: Price FOB Chico, CA Delivery of systems is typically within 3-7 days
Warranty: All parts and labor for a period of one year from date of purchase, some restrictions apply.